Product Catalog
358 Series Mesh Fence:
358 Welded Mesh Fencing for Perimeter Security:
358 Wire Mesh Heavy Welded Panels provides the highest degree of physical perimeter protection. It is ideal for sensitive areas requiring the maximum degree of security. 358 mesh security fences are popularly used for prisons and nuclear establishments; to computer center, research laboratories and warehouses; to schools and retail areas.
358 welded mesh fencing is used for high security fencing, requesting double horizontal wire, power-coating. It is stronger due to the small mesh opening.
Common Sizes:
358 Mesh /welded prison mesh
Wire diameter: 4mm, 5mm
Mesh: 76.2x12.7mm
Material: low carbon steel wire
358 mesh fence advantages:
The aperture is 72.2mm horizontal x 8.7mm vertical and makes 358 mesh extremely difficult to penetrate using conventional hand tools, thus providing a high delay factor.
Despite the high degree of security, the visual impact of a 358 fence on the environment remains very discreet. It is specifically configured to give maximum visibility.
358 Prison Mesh
Prison mesh fence is welded 358 mesh with razor wire on tops of the trellis.
Common sizes:
Hole size:12.7x75.2mm; wire dia:4mm
Materials: steel wire hot-galvanized
Tensile strength: 540-615N/mm2
Benefits of Using welded prison mesh fences:
High security fence, anti-climb and anti-cut
Flat panel that gives improved aesthetic appearance
Maximum strength and security
Excellent through vision
Wide range of colour options
Available as a complete system
358 Prison mesh fence application:
Welded prison mesh is used for schools, Industrial & Commercial Sites, Infrastructure, High Security.
358 High Security Fence:
358 mesh is a special fencing panel that offers high security performance, durability and appearance.
Why is it called 358 mesh?
358 comes from its typical measurements 3" x 0.5" x 8 gauge which equates to approx. 76.2mm x 12.7mm x 4mm in metric.
It is a professional structure designed for high security sites or areas, combined with an steel framework. The surface treatment is heavy zinc coating or RAL coulor Powder coating.
Features:
ANTI-CLIMB: More small openings, no toe or finger holdings.
ANTI-CUT: Robust wire and welded joints make cutting very difficult.
BETTER VISIBILITY: Flat, two-dimensional profile, easier to see through than chain link.
Specifications:
1/2" x 3" x 8gauge, 1" x 3" x 8gauge. Panel size from 2m to 4m.
Finishes by hot dipped galvanized or powder coated after gal.
Any colors available.
Applications:
•Bridge anti-climb guarding & guard safety screening
•Sub-station Security Fencing
•Psychiatric hospital security fencing
•Prison Security Fencing
•Factory Machine guards
•Walkway security fencing
•Airport security fencing
•358 wire mesh fence gates
•Shipping Port Security fencing
•Electrical sub-station fencing
•Water Treatment works
•Gas pipelines Security Fence
•High security window grilles
•Balustrades Security Fence
Anti Climb Security Fence
Anti Climb Fence is made of generally wire mesh panel fences and concertina razor wire on top.
No-climbing mesh security fence panel has close mesh opening and horizontal wires that make it an incredibly robust fencing. This system has good visibility and also aesthetically pleasure. It is highly regarded as the most difficult fence to penetrate, providing an excellent defence against climbing and cut-through.
Anti-climbing anti-cut mesh netting fence Specifications:1/2"*3"*8gauge, Panel size from 2m to 4m, finish by hot-dipped galv, or PVC coated after galv.
Material:
Low carbon steel wire, hot dip galvanize
d, or plastic coated.
Fence Height:
1.8m, 2m, 2.4m, 2.7m, 3.0m, 4.0m, 5.2m
Mesh size:
76.2mm x 12.7mm
Horizontal Wires:
4mm --6mmx 12.7mm centers

Vertical Wires:
4mm --6mmx 76.2mm centers
Post Centers: 2.5mm
358 Secure Mesh, Hot Dipped Galvanised and Powder Coated
358 secure mesh is a new style of anti-climb weldmesh fencing which is being used for perimeter installations that require high security.
358 Secure Mesh Features:
l High rigidity
The Secure-mesh panel is made of low carbon wire and its diameters is 4-6mm with tightening folds according to the height of panel.
l High protection against corrosion
Secure-mesh fence is a welded mesh panel made of galvanized & powder-coated steel wires. The Long Life Technology powder-coating process guarantees a long life span and a reliable protection against corrosion.
l Secure and discreet
A superior system for providing security where a discreet visual impact on the immediate environment is essential.
l Vandal resistant
The finger proof aperture combined with 4mm wire diameter provides a barrier that is difficult to climb or penetrate. Almost impossible to cut wires by use of conventional bolt or wire cutters.
l Efficient deterrence
An effective deterrent to intruders available in various heights up to 6m. Compatible with electronic detection and alarm systems.
l Good viewing visibility
In spite of the small mesh aperture the see-through characteristics remain unimpaired when viewed head-on and even at an angle to the fence. This is particularly important for clear camera surveillance.
l Durability
The high quality advanced coating technology guarantees an extended product life span and low maintenance.
l Installation
The panels are produced at 3.050 m, reducing the amount of posts needed by 20%. Installation time is thus reduced.
l Weld Strength
The superior welding technique and process control create a stronger fusion between the wires.
l Complete system
358 secure net fencing is supplied as a complete system with panels, posts and gates - stepped panels available to suit sloping sites.
Other Security Mesh Fences:
Weldmesh Fencing
Woven Wire Fence
Anti Climb Fencing
Picket Fence
Palisade Fence
Chain Link Fence
Razor Wire and Concertina Wire High Security Fence
Electric Wire Field Fence
High Tensile Wire Fences for Cattle, Horses and various uses
General Weld Mesh Fencing
Material: Low carbon steel wire
Process: Welding
Fence length 2m, 2.5m as standard
Application: Fencing for road, railway, airport, residence district, seaport, garden, feeding and husbandry.
Surface treatment: Galvanizing, zinc coating, plastic coating,etc.
High Tensile Woven Wire Field Fence
Woven wire fences are very effective when used with a barb wire or electric strand at the top or inside the enclosure near the middle of the woven wire. The advantage of a woven wire fence is its effectiveness as a visual barrier for deer, cattle and other animals. Woven wire fabric is best used as a perimeter fence.
The weaving process of metal wire makes the fabrics more flexible and universally used. Without punching, expanding or stretching operations, woven wire has less stress-induced weaknesses. Woven metal can be easily fabricated into different shapes and designs That is also one important reason that woven wire fabrics find popular uses in fences.
The opening of woven wire can be square and rectangular.
Woven wire fences mainly serve in various commercial and agriculture uses.
Woven is the most popular wire mesh. It is available in a wide range of meshes, weaves and opening sizes.
Woven wire fences are very effective when used with a barb wire or electric strand at the top or inside the enclosure near the middle of the woven wire. The advantage of a woven wire fence is its effectiveness as a visual barrier for the animals. Woven wire is best used as a perimeter fence.
Barbed Wire, Razor Wire and Concertina Tops for Anti Climb Fencing
The razor barbed wire is used for completing Anti-Climb high security fencing. Anti climb high security fencing system is well known as anti-climb & anti-cut barrier.
The panels are designed to give attractive, long lasting and secure perimeter protection for industrial and commercial properties, public utilities. It is really suited for electronic alarm and detection systems - no blind spots.
Anti climb fencing is also a good choice for Military, airports, secure units and prisons.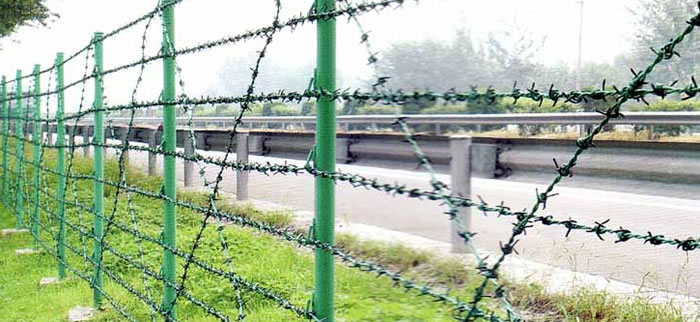 Wrought Iron Picket Fence
Wrought iron and Powder Coated Steel Picket Fence can be made in a range of heights up to 3.6m. It can be supplied assembled in panels, posts along with either bolts or rivets.
Surface treatment: Steel Picket Fence is available in a range of finishes, hot dipped galvanized,or galvanized firstly then pvc coated in various colours to blend with the environment.