Anti-Cut Through 4mm x 4mm Stainless Steel Welded Mesh High Security Fencing Panels

Stainless Steel 316L High Security Mesh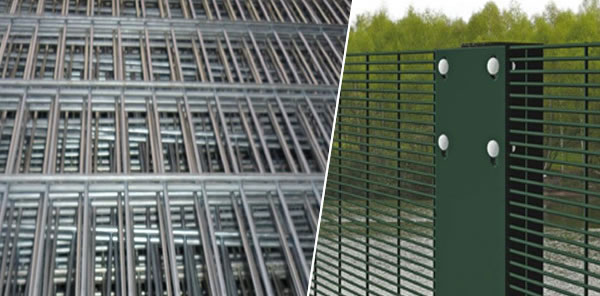 SS Grade Anti Cut Through 358 Mesh Welded Fence Panels
304L and 316L are popularly used stainless steel grade materials for High Security Mesh welded panels. Stainless steel wire mesh has excellent corrosion resistance and strength.
Stainless Steel 316L Grade High Security Mesh Fencing System with Welded Mesh Panels, Door Frame, Plates, and Bolts:
Stainless Steel Wire Mesh / Bar Welded Planks:
High security mesh. Anti-intruder, anti-climb, anti cut through mesh.
Stainless Steel 316L Grade Horizontal Wire Diameter: 4mm, at 12-14 mm Centre – Centre
Stainless Steel 316L Grade Vertical Wire Diameter: 4mm, at 76 mm Centre – Centre
Processing: Welded Wire or Bar Sheets, not woven.
Security Bolt Fixing Frame and Plates:
Toggle bolt fixed to planks.
Secure anti-tamper stainless steel security bolts.
120x120x5 ss grade 316l. Epoxy concrete bolts to fix wall and weld for anti tamper.
Access door with anti tamper maximum security lock and hinges. 80x80 stainless steel gate post.
50x50 stainless steel door frame.
Base plate: 300x300x15 stainless steel 316L grade base plate for top and bottom.
Weld or clamp mesh with stainless steel plate into angle.
50x6 continuous stainless steel 316l grade angle along top and bottom of mesh.
Other materials available: Stainless steel 304, 304L, 316.